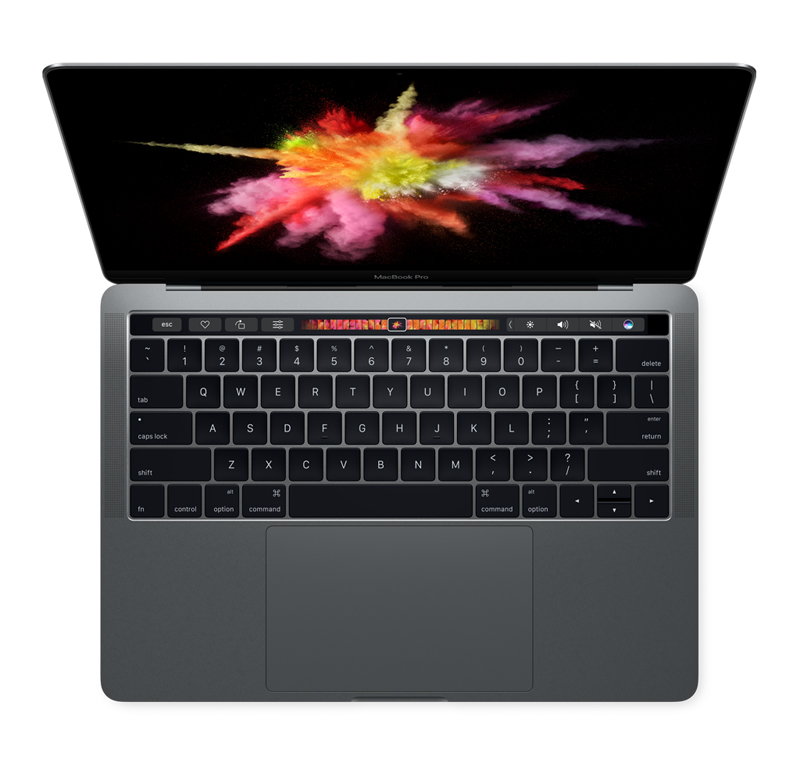 With the release of the new 13-inch and 15-inch MacBook Pros, Apple has rewarded those who have been waiting patiently for new models. They're smaller, lighter, and faster than the previous MacBook Pros, but what really sets them apart is the new Touch Bar. What's a Touch Bar, you ask?
It's a thin, touch-sensitive screen above the keyboard, where the function keys used to be. The Touch Bar displays buttons, sliders, and other tools that change not only with what app you're using, but also based on what you're doing in that app. If you're accustomed to using the function keys, you'll be relieved to know that pressing the physical Fn key on the keyboard displays F1 through F12 on the Touch Bar. Most of the time, though, you'll want to let apps customize the Touch Bar for you.
In Photos, for instance, the Touch Bar lets you scrub through your photo collection, mark photos you love, and edit photos. Once you select a photo for editing, the Touch Bar changes to provide editing tools, such as exposure and color sliders and rotation controls. In a video editing app like Final Cut Pro X, the Touch Bar can provide a timeline scrubber along with trimming tools. Plus, you'll be able to customize the Touch Bar however you like in different apps.
Integrated into the right edge of the Touch Bar is a Touch ID sensor, just like on an iPhone or iPad. Touch it with one finger to log in to the MacBook Pro, or with another to switch to a second account via fast user switching. Other people can use it to log in to their accounts too. The Touch ID sensor also communicates with a new Apple T1 chip in the MacBook Pro to store Apple Pay information for use in Safari when buying stuff on Web sites.
The new MacBook Pro models sport an industrial design that takes cues from the 12-inch MacBook to reduce size and weight. In fact, the new 13-inch MacBook Pro is now thinner, narrower, and less deep than the 13-inch MacBook Air and less than an ounce heavier at just over 3 pounds. The new 15-inch model weighs in at 4 pounds.
Those size and weight savings don't come at the cost of reduced performance or battery life. Battery life is the same as the previous models at up to 10 hours, and performance is notably better, thanks to faster processors, improved graphics chips, and speedier solid-state storage. Speaking of storage, the new Macs generally start at 256 GB, with 512 GB or 1 TB SSD upgrades, and you can opt for 2 TB in the top-of-the-line 15-inch model. 8 GB of RAM is standard, but you can bump that to 16 GB.
You'll notice that the Force Touch trackpad looks huge. That's because it's twice the size of the trackpad in the previous MacBook Pro models, making it easier to move around and use multi-touch gestures.
Both models feature improved screens. The resolutions remain the same as before—2560 by 1600 pixels for the 13-inch model and 2880 by 1800 for the 15-inch—but Apple says the displays are 67 percent brighter, have a 67 percent higher contrast ratio, and show 25 percent more colors, a boon to graphics professionals.
For charging and expansion, Apple learned a lesson from the 12-inch MacBook, which has only a single USB-C port. These new machines feature four Thunderbolt 3 ports, two on each side, and you can use any port for charging, driving an external display (via an adapter for HDMI or VGA), or connecting to storage or other devices. Thunderbolt 3 uses the same physical connector as USB-C and supports older USB devices too. It boasts so much bandwidth—40 Gbps—that it can even drive two additional 5K displays or four 4K displays simultaneously!
Everything else is roughly as you might expect: 802.11ac Wi-Fi for connectivity, Bluetooth 4.2, a more responsive backlit keyboard, 3.5mm headphone jack, louder stereo speakers with greater dynamic range, three built-in microphones, and a 720p FaceTime HD camera.
Prices start at $1799 for the 13-inch model and $2399 for the 15-inch model, and you have a choice of silver or space gray colors. For those who are looking to save some money, Apple also introduced a cheaper version of the new 13-inch MacBook Pro that lacks the Touch Bar, has only two Thunderbolt ports, and uses a slower processor. The previous MacBook Pro models remain available, as do the 13-inch MacBook Air and 12-inch MacBook, so if you're having trouble figuring out which of Apple's laptops makes the most sense for your needs and budget, come talk to us!