How To Reach Us:
599 Lafayette Rd, Portsmouth NH 03801| (603) 766-3343 | sales@macedge.com
Hours

Monday
10am – 6:30pm
Tuesday
10am – 6:30pm
Wednesday
10am – 6:30pm
Thursday
10am – 6:30pm
Friday
10am – 7:00pm
Saturday
10am – 6:00pm
Sunday
Closed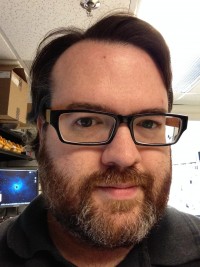 Dan Deering
Chief Expert
Dan has been with MacEdge since 2002. With that longevity, he is the Manager of MacEdge Portsmouth, AKA "Expert-in-Chief of All the Things."
Fun Fact: In his free time, Dan is a filmmaker. He has written and directed short films that have screened at regional film festivals, including the New Hampshire Film Festival. He also provided additional photography on Alfred Catalfo's award-winning short film Rocketship.
15 Minutes of Fame: In 2013, he won a New England Emmy as an Executive Producer for a PSA he worked on for the National Children's Alliance.
Quotable Quote: "Dan may or may not be writing this in the third person."
First Mac: PowerBook 1400CS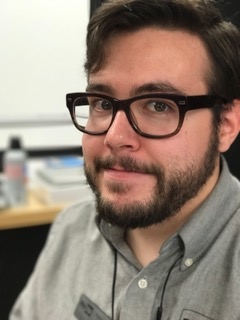 Dylan Carey
Sales Expert
A self-professed Mac Geek ever since he was but a wee child, Dylan is now a grown-up and iOS Certified for iPhone repairs. You'll find him at the main desk, or on the floor helping a customer find just the right thing. 
Fun Fact: Dylan once applied to be an astronaut. NASA said he didn't have "relevant experience." (NASA's loss is our gain!)
Favore iPhone App: Podcasts
First Mac: iMac G4 ("Desk Lamp" Model)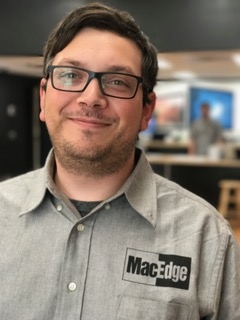 Joel Dolliver
Sales Expert
Joel is Apple Certified in Mac and Mobile repair, and he's Apple Certified in Software Training for iOS, iWork, and iLife. As a former Apple Store "Genius," there's not much you can ask him that he won't know, or show him that he hasn't seen. Joel joined MacEdge in June 2017.
Fun Fact: A US Army vet, Joel served in Iraq and has "Secret" clearance.
Madison Gillies
Sales Expert
Madison started offering her own special brand of Mac expertise in May 2017.
Quotable Quote: "I'm an expert doodler. I have all the crayons."
15 Minutes of Fame: Scholastic Art Silver Award Winner 2006 & 2007
Favorite iPhone App: Eggggg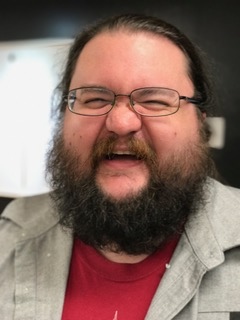 Marc von Geldern
Service Expert
Marc is an Apple Certified Repair Technician. You won't see Marc when you visit the store — he's in the back making your computer as good as new! He's been with us since December 2015.
Fifteen Minutes of Fame: Published an iPhone game app and is a regular Podcaster.
Quotable Quote: "Let me show you my baby." (Pulls up a picture of the computer he built at home.)
First Mac: Macintosh Classic
MacEdge was originally founded as Monadnock Micro in Keene in 1991. In 2001 we changed our name to reflect our emphasis on Mac and Mac users. In 2002 we purchased Accolade Computers in Dover, and in 2006 consolidated our operations to a larger and more easily accessible retail store in Portsmouth. As a locally-owned business, we are proud to serve the Seacoast community.

Apple Premier Partners provide superior customer experience with focus on Apple solutions, service and support. MacEdge proudly attained this highest level of reseller authorization in December of 2015. MacEdge is the only Apple Premier Partner in New Hampshire.
For consecutive years, MacEdge has been awarded the Premium Service Provider designation by Apple. Premium Service Providers have been recognized by Apple for providing exceptional service and must meet the highest level of customer satisfaction and quality of service. MacEdge is the only Premium Service Provider in Southern New Hampshire.